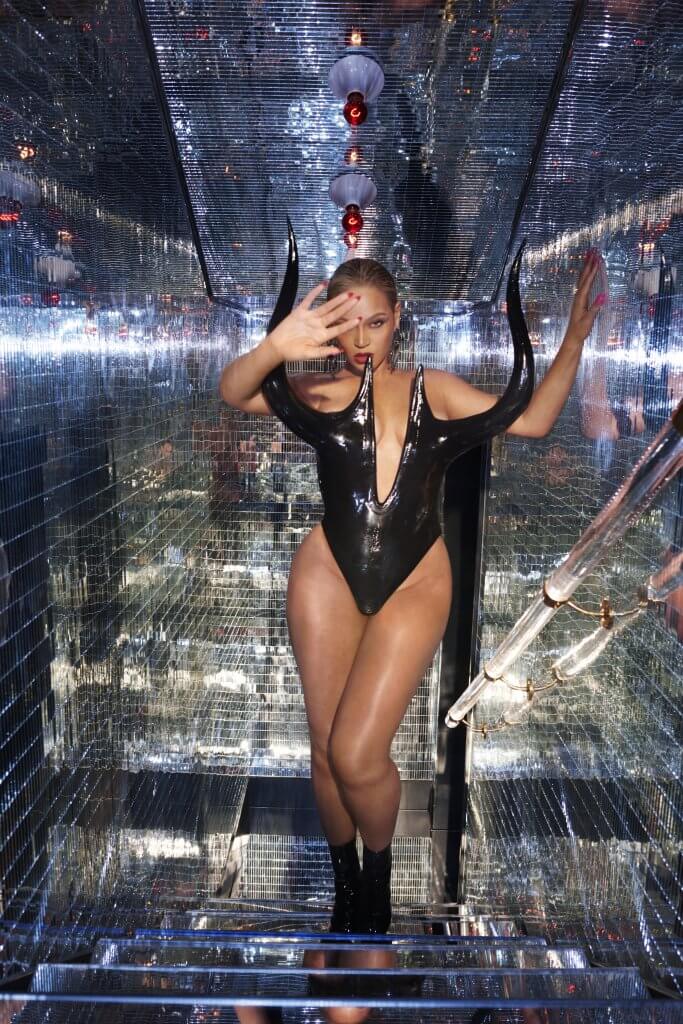 "Queen mother Madonna, I love ya…"
It's been 84 years since I last typed these words, but this is an emergency situation that has unearthed a stan panic buried deep within: sit down, shut the fuck up, and stop your entire fucking life.
Beyoncé is giving the LGBTs exactly what they never knew they needed.
At 5 p.m. on Friday (August 5), while everyone was busy clocking out at work – if you haven't already followed her lead and quit your job, that is – Team Beyoncé casually updated her official website with just one more remix of her lead single, "Break My Soul."
It's called "The Queens Remix," and it features…Madonna.
Yes, that's right: MADONNCÉ.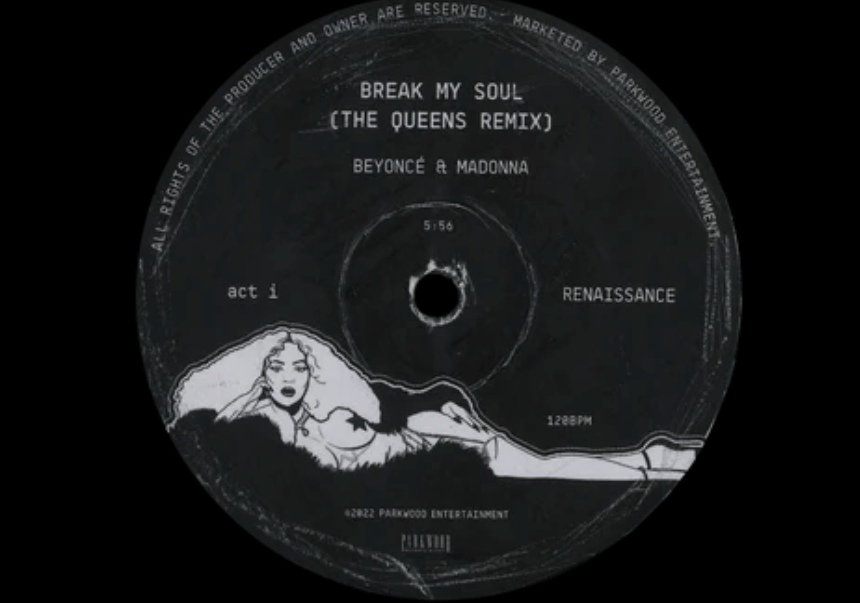 Apparently taking the Renaissance album campaign's commitment to honoring the past very seriously, Bey's opted out of the streaming services for this remix (for now), and forced us all to time-travel to 2006 and download the song in .MP3 form for $1.29 from the official shop. It's also apparently only available to purchase for the next 24 hours. (She will be going straight to jail if it's not uploaded on DSPs soon afterward, mind you.)
But trust: it's truly worth all 129 pennies.
Beyoncé said this album is a tribute to the past, so you're going to have to remember how to download a MP3 for this remix. pic.twitter.com/rtW6T7Ydvr

— Bradley Stern (@MuuMuse) August 5, 2022
UPDATE: It hit streaming at midnight. THANK GOD.
The nearly six minute mix heavily incorporates Madonna's iconic 1990 classic "Vogue" – entirely fitting for the queer culture-inspired Renaissance. And while Madge didn't supply new vocals, likely because she was busy terrorizing the streets of Manhattan late at night, Bey's provided plenty of her own.
From the very first "ooh la la…," it's an instant, mind-melting masterpiece.
It's not just a few extra adlibs here and there over the "Vogue" beat from Bey, either: like stan fiction come to life, Beyoncé recorded her own version of the "Vogue" spoken rap, referencing her own inspirations, serving up the names of many of our favorite Black female icons. (That's especially notable, given the original version's all-white Old Hollywood roster.) It's an absolute dream come true.
I'm in tears. Ya'll know I'm in tears. You KNOW!! https://t.co/sC5jrqtVTh

— ⭐Jill Scott⭐ (@missjillscott) August 5, 2022
"Rosetta Tharpe, Santigold, Bessie Smith, Nina Simone / Betty Davis, Solange Knowles / Badu, Lizzo, Kelly Rowl' / Lauryn Hill, Roberta Flack / Toni, Janet, Tierra Whack / Missy, Diana, Grace Jones / Aretha, Anita, Grace Jones / Helen Folasade Adu, Jilly from Philly, I love / you, boo / Don't just stand there, get in to it / Strike a pose, there's nothing to it / Vogue."
The double Grace Jones shout-out. Janet. Toni. Sade's full government name. It's too much. It's too MUCH.
And it doesn't even end there, as she works her way through even more Queens and the various legendary ballroom houses: "Mother of the House, ah / Michelle, Chlöe, Halle, Aaliyah / Alicia, Whitney, Riri, Nicki / House of Revlon, House of LaBeija / House of Amazon, the House of Aviance / The House of Balmain, the House of Ninja / The House of Lanvin, House of Telfar / House of Ladosha, House of Mugler / The House of Balenciaga, the House of Mizrahi-i-i-i-i."
The Destiny's Child inclusion with Kelly Rowlegend and Michelle, My Belle, further fueling my Act III reunion fantasy…no. ["America Has a Problem" voice] NO.
IT'S. TOO. MUCH.
The public is in desperate need of the official remix lyrics, @Parkwood. pic.twitter.com/MXcfsmzJkd

— Bradley Stern (@MuuMuse) August 5, 2022
The mile-a-minute references are already sort of kicking young Stan Twitter's ass. We're going to need the official lyrics stat before anyone else's feelings get hurt from mishearing their fave's name, Parkwood Entertainment.
With the new lyrics, Beyoncé leans in even further with the encouragement, lovingly offering herself up as the lightning rod for all the outside hate (and repressed self-loathing) to protect us in a rather powerful statement: "I, mother of my house, vow, to keep my f-ing mouth to myself / You make me smile, I vow to love thy hater / I believe in you, you can do it / Release, repressed, suppressed, regressed, redirect all that anger (To me) / And give it to me (To me), give it to me (to me), give it to me…" Mother, indeed.
Not only is The Queens remix of "Break My Soul" a full-on Legends Only affair that perfectly encapsulates the era's mission statement – a tribute to the innovators who've paved the way – but the production itself is absolutely sick ("c-c-cunty…"), especially as it goes all the way off in the last minute or two. It's feels essential for the inevitable tour, and demands a live performance immediately.
After delivering what is easily one of the best albums of the year, she's gone ahead and provided us with yet another gift: a legacy-saving distraction from Madonna's "Material Girl" remix, which also dropped today. She is simply too generous.
Me, trying to tell people to download an MP3 immediately. pic.twitter.com/uRCLi5XZdE

— Bradley Stern (@MuuMuse) August 5, 2022
Now, if Beyoncé could just also give it to us on streaming so I can stop shouting at people to purchase a .MP3 like it's the early '00s (or if someone Mission: Impossible-style breaks into Parkwood Entertainment HQ tonight and hits "upload" to DistroKid), that would be fabulous.
Until then, see you at Club Renaissance…and on your iTunes local library.
Click here to buy the song, and check out the lyrics inside.
Check out the MuuTunes Spotify playlist. Subscribe!
You can also subscribe to MuuTunes on Apple Music.